Skip to navigation
About the Zen teacher - Prof. Masunaga Reiho
(From Danny Waxman book: 'Zen Questions and Answers')
Prof. Masunaga's Calligraphy
Q: Who was your Zen teacher?
A: My Zen teacher was Prof. Masunaga Reiho (1901-1980). He understood Dogen's Shobogenzo, and introduced Dogen's Zen to the modern world. Prof. Masunaga taught that everyone must and can find himself through Zazen (the calm sitting with crossed legs). Zen, he said, brings the means for releasing the vital moment in everyone, and makes creative altruism a natural behavior. As to the question - How can Zen flourish in the modern world? His answer is: raw Zen, simple, just a quiet sitting. The trainee can't hide or close himself off the world even when he is returning to himself. He must go out to the world while returning to himself. The Zen student has to solve and fulfill in his own daily life, the paradox of entering and leaving. The trainee starts his actions in the world while he or she is penetrating to the true self. The modern Zen student doesn't have the shelter and the training conditionings of the Zen monasteries. The trainee must find in himself, (through training and through the help of a true-teacher), the inner power that is needed for full functioning in the fast and stormy modern life, while still penetrating into himself.
For many years Prof. Masunaga was the vice president of Komazawa University in Tokyo. The university emphasized the studies of Buddhism and was especially focused on the Soto-Zen School. He was professor of Buddhist Philosophy and History of Zen Buddhism at Komazawa University. One of his important academic research-fields was Chinese Zen-texts. He was also one of the head priests of Eiheiji, although he was very modest about this fact. He also had a wife and three children.
His two main teachers were: the Zen teacher Ekiho Minamoto who was the head priest of Kongoin temple, and the Zen teacher Giho Okada who was the president of Komazawa University and the head of Unshoji temple.
Prof. Masunaga believed that Zen is important to the people of the West. He believed that it is possible to bridge the differences between the cultures of the West and the East through Zen training. He taught that it is necessarily to combine the good qualities of the two cultures for the progress of mankind and for creating a more humanistic world. Prof. Masunaga Reiho opened his heart to, and shared his knowledge with western trainees. Although he was a very busy man, he always had time for anyone who truly wanted to learn Zen. He was an acknowledged expert and leader of Buddhist studies in his time, and was especially strong in actual understanding of Dogen's Zen.
He studied Chinese and Indian Languages and was also very interested in western culture, thus, he studied English and German as well.
His academic and public activities included writing more than fifteen books on Zen and Buddhism and many articles (in Japanese), editing, lecturing and so on. Prof. Masunaga wanted to help the western people to know more about the Soto-Zen school, and the benefits of practicing Zazen. For this propose he wrote Zen books and articles in English. His books contain translations (from Japanese to English), of some of the most important chapters of Shobogenzo, and other Zen-texts (listed partly in the answer to the question about Shobogenzo).
Most significant are his introductions and commentaries to every text that he has translated, and many additional essays each contain information, explanations and ideas about Zen life, history and culture.
The names of Prof. Masunaga's English books are:
Zen in daily living
Zen beyond Zen
Soto approach to Zen
How did Danny Waxman meet Prof. Masunaga.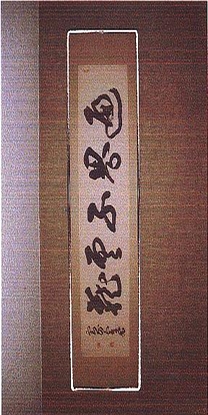 Prof. Masunaga's Calligraphy - In the whole world, not a thing is concealed
Mr. James Yamada, one of Prof. Masunaga's closest Zen students, kindly presented this Photo of Prof. Masunaga's Calligraphy for this site. He explained me this Calligraphy and I bring his exact words here:
The strokes in the photo may distill some of Sensei's deepest insights. In Japanese, the calligraphy reads: Henkai fu Zo Zo. It originated in a saying by Shih-Shuang Ch'ing-chu (807-888). It means something like 'in the whole world, not a thing is concealed. Sensei may have preferred something more direct, a translation that would have the Ego-centered ones rushing for the exit: The cosmos hides nothing
Prof. Masunaga was conducting for many years Calligraphy classes at Mr. Yamada's House in Tokyo.